Welcome to The Others Connection! This ring is dedicated to the NBC series The Others, to bring fans of this unusual show together online. The Others airs on Saturday nights at 10:00 PM EST and stars Bill Cobbs, Gabriel Macht, John Aylward, John Billingsley, Julianne Nicholson, Kevin J. O'Conner, and Melissa Crider. This ring also welcomes sites on the paranormal and parapsychology, including but not limited to: ESP/clairvoyance, sensitives, empaths, mediums, psychic abilities, sixth sense, and any other topic seen in the series!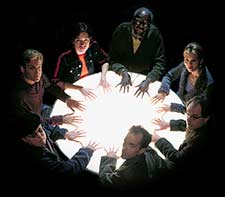 Join the Ring!
Webmasters are invited to join the ring. It only requires a personal web page on The Others, any of the actors starring in the show, or a series-related topic, and filling out a simple form. The benefits are increased traffic and a sense of community. The form to submit your site for addition to the ring is below. Please allow a day or two for processing.

Important!
Once your site has been accepted into the webring, you will receive an email to that effect. You can then insert the Webring HTML Code found below onto your webpage. You must put this code on the same page as the page you submit. This need not be your site's main page, but it does have to be the same as your submitted page. I want people traveling the ring to "land" on the page that has the ring code so they won't have to search for it. It's a little thing - please humor me.