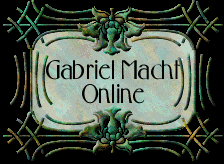 What's New?
Add this site to your favorites!
This site is best viewed with the Gabriel font, as shown in the
title box above, download here. Extract from WinZip file to:
C:\Windows\Fonts. No WinZip? Shame on you, download here.





Gabriel Macht



Welcome to Gabriel Macht Online. This talented actor can now be seen weekly on NBC's new hit drama, The Others. This site is still a bit under construction, but enjoy your visit - and sign the guestbook!





Photographs & Art Images



Articles & Other Stories



Sign the Guestbook



Email the Webmistress


Please Vote for this Site!



This site in The Others Connection owned by Kathe.
Add your site to the ring!
[Previous 5 Sites | Skip Previous | Previous | Next |
| Skip Next | Next 5 Sites | Random Site | List Sites]

The graphic art on this page is on loan from:



Visitors since March 1, 2000:

Back to Top
Copyright 2000 by Kathe
Visit my other websites (too much free time!).